Technologies
COLUMBIA Technologies integrates a combination of rapid screening technologies including the latest high-resolution data collection, certified onsite laboratory analyses, and world-class interactive reporting tools to help site owners reduce the risk, uncertainty and cost of contaminated site remediation. Embodying the best science and best quality, our technologies deliver accurate and reliable real-time data on subsurface soil permeability, groundwater movement and contamination chemistry, enabling owners to make more informed decisions and achieve more sustainable outcomes.
Our technologies and services include:
SmartData Solutions®
–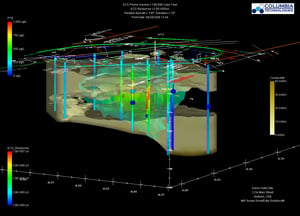 Our award-winning cloud-based process that integrates high-resolution data collection and interactive reporting tools to optimize the evaluation and design of soil and groundwater remediation programs.
Included with each project to provide a direct link from the field data collection to your desktop or mobile device.
High-Resolution Site Characterization – A toolbox of direct sensing technologies and real-time sampling and data collection that map subsurface contamination, track soil and groundwater changes and profile existing remediation systems. The direct sensing technologies include:
Membrane Interface Probe (MIP)
Hydraulic Profiling Tool (HPT)
Laser Induced Fluorescence (UVOST®)
Optical Imaging Profiler (OIP)
Onsite Laboratory Analysis and Screening – saving customers valuable time with rapid onsite analysis of volatile organic compounds (VOCs) in vapor, soil and groundwater.