SmartData Solutions® is COLUMBIA Technologies' cloud-based decision-support system that integrates high-resolution data collection and interactive reporting tools to optimize the evaluation and design of soil and groundwater remediation programs. SmartData Solutions® provides customers access to proven, real-time investigation, analysis and visualization techniques that map subsurface contamination, track soil and groundwater changes and profile existing remediation systems.
Compared to the low capture rates of previous data collection approaches, SmartData Solutions® delivers the volume, quality and insight to yield sustainable outcomes:
Best Data. High-resolution data of the lateral and vertical extent of soil and groundwater contamination.
Deepest Understanding. A complete overview of local site geology, hydrogeology, geochemistry, and contaminant chemistry.
Pinpoint Recommendations. More accurate delineation for the best possible remediation design.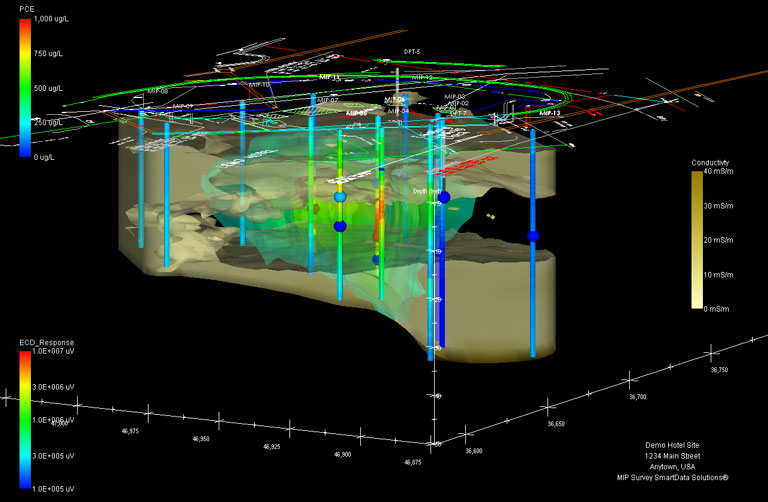 Using a browser, managers can view GIS-based data as it is generated, ask questions while performing their own investigation and analysis and reduce the time for budgeting and technical decision making. Given that SmartData Solutions® provides all of these capabilities available through the cloud, it improves collaboration among project managers, decision-makers and other stakeholders, wherever they are.
SmartData Solutions® Features at Glance
Password-protected secure website to review project data
Real-time updates of direct sensing data after every borehole
Immediate and complete QA/QC check on field data with each update
24×7 access to all data logs and raw data files
Email notification as new data becomes available