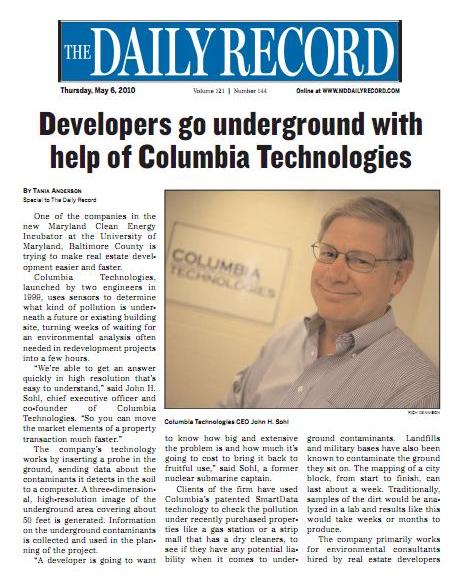 Article originally featured in The Daily Record May 6, 2010 Issue
One of the companies in the new Maryland Clean Energy Incubator at the University of Maryland, Baltimore County is trying to make real estate development easier and faster.
Columbia Technologies, launched by two engineers in 1999, uses sensors to determine what kind of pollution is underneath a future or existing building site, turning weeks of waiting for an environmental analysis often needed in redevelopment projects into a few hours.
"We're able to get an answer quickly in high resolution that's easy to understand," said John H. Sohl, chief executive officer and co-founder of Columbia Technologies. "So you can move the market elements of a property transaction much faster."
The company's technology works by inserting a probe in the ground, sending data about the contaminants it detects in the soil to a computer. A three-dimensional, high-resolution image of the underground area covering about 50 feet is generated. Information on the underground contaminants is collected and used in the planning of the project.
"A developer is going to want to know how big and extensive the problem is and how much it's going to cost to bring it back to fruitful use," said Sohl, a former nuclear submarine captain.