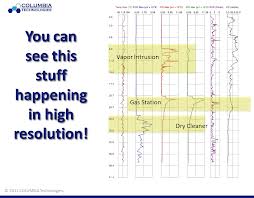 Would a comprehensive site assessment and better data with multiple technology integration make a difference in your overall scope? Before you answer that question, think about whether or not having better, more accurate, and real-time information would motivate you to change your investigation technique on your next project. Are you actually interested in having data that accurately depicts the plume, delineates your source area, and multiple lines of evidence on your subsurface contamination? Or, would you rather "drill blind" and continue to sample areas where you think there may be contamination and install monitoring wells at the wrong depth and location incurring additional costs and time?
If having better data would actually change the way you would execute your project, design a remediation plan, or install monitoring wells, please read on. If you disagree, you may also continue to read, but the thoughts below may conflict with your perspective. Just saying, we warned you.
Data which is collected with advanced direct sensing tools (such as the Membrane Interface Probe (MIP), Laser Induced Fluorescence (LIF), or Hydraulic Profiling Tool (HPT)) provide a greater level of detail for characterizing the local site geology, a more in depth understanding of the hydrology, and deeper insight into the contaminant chemistry of your site. Wouldn't all of this allow you to make more informed decisions?