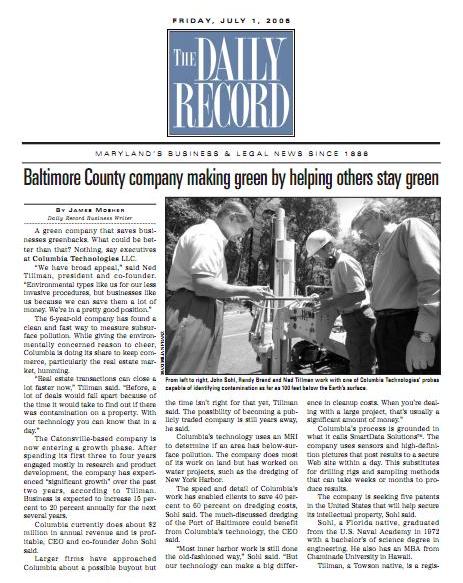 Article originally featured in The Daily Record July 1, 2005 Issue
"We have a broad appeal," said Ned Tillman, president and co-founder. "Environmental types like us for our less invasive procedures, but businesses like us because we can save them a lot of money. We're in a pretty good position."
The 6-year-old company has found a clean and fast way to measure subsurface pollution. While giving the environmentally concerned reason to cheer, Columbia is doing its share to keep commerce, particularly the real estate marketing, humming.
"Real estate transactions can close a lot faster now," Tillman said. "Before, a lot of deals would fall apart because of the time it would take to find out if there was contamination on a property. With our technology you can know that in a day."
The Catonsville-based company is now entering a growth phase. After spending its first three to four years engaged mostly in research and product development, the company has experienced "significant growth" over the past two years, according to Tillman. Business is expected to increase 15 to 20 percent annually for the next several years.
Columbia currently does about $2 million in annual revenue and is profitable, CEO and co-founder John Sohl said.