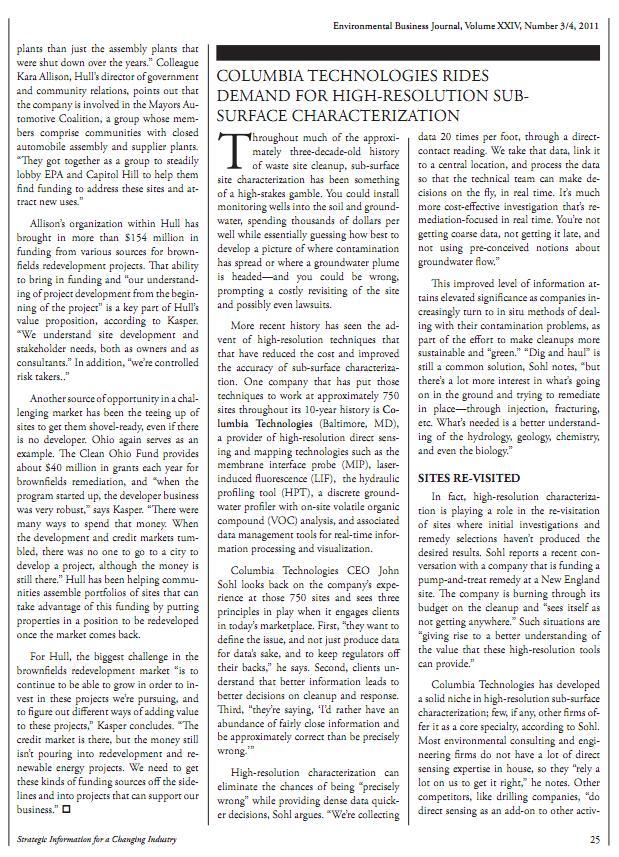 Article originally featured in the Environmental Business Journal (EBJ) Remediation & Redevelopment Issue, Volume XXIV, Number 3/4, 2011
Throughout much of the approximately three-decade-old history of waste site cleanup, sub-surface site characterization has been something of a high-stakes gamble. You could install monitoring wells into the soil and groundwater, spending thousands of dollars per well while essentially guessing how best to develop a picture of where contamination has spread or where a groundwater plume is headed—and you could be wrong, prompting a costly revisiting of the site and possibly even lawsuits.
More recent history has seen the advent of high-resolution techniques that that have reduced the cost and improved the accuracy of sub-surface characterization. One company that has put those techniques to work at approximately 750 sites throughout its 10-year history is Columbia Technologies (Baltimore, MD), a provider of high-resolution direct sensing and mapping technologies such as the membrane interface probe (MIP), laser-induced fluorescence (LIF), the hydraulic profiling tool (HPT), a discrete groundwater profiler with on-site volatile organic compound (VOC) analysis, and associated data management tools for real-time information processing and visualization.
COLUMBIA Technologies CEO John Sohl looks back on the company's experience at those 750 sites and sees three principles in play when it engages clients in today's marketplace. First, "they want to define the issue, and not just produce data for data's sake, and to keep regulators off their backs," he says. Second, clients understand that better information leads to better decisions on cleanup and response. Third, "they're saying, 'I'd rather have an abundance of fairly close information and be approximately correct than be precisely wrong.'"