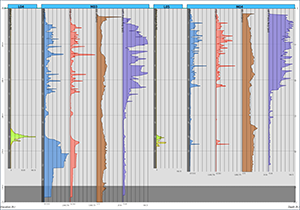 So, you've decided that a high-resolution 3D assessment of your site would help clear up the uncertainty in where any residual product is hiding and what its spatial relationship is to the soil permeability and the installed monitoring and recovery wells. How do you get started?
Multiple organizations including U.S. EPA (www.epa.gov/ust), ASTM International (astm.org), the Interstate Training and Regulatory Council (ITRC.org), the American Petroleum Institute (API.org), the Australian Cooperative Research Centre for Contamination Assessment and Remediation of the Environment (CRCCare.com), and the individual state jurisdictions all have published guidelines for undertaking a systematic assessment of petroleum contaminated sites.
Turns out, you probably have a lot of important information readily available to get started. Your key to success going forward will be both a systematic review of where your current LCSM stands to identify data gaps and uncertainties followed by a systematic data collection effort to close those data gaps with multiple lines of evidence.